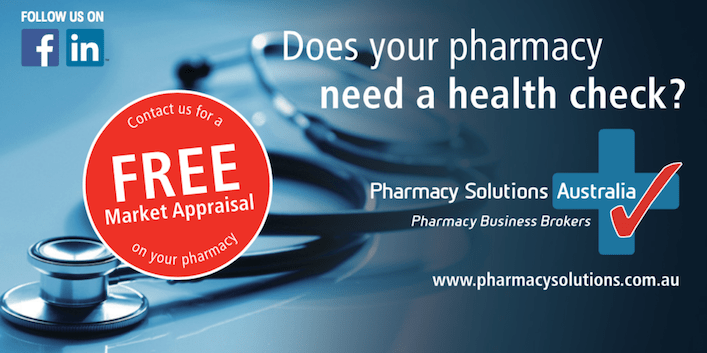 FREE Market Appraisals
To enquire about obtaining a free market appraisal of the value of your pharmacy please contact Peter Marshall on:
Mobile: 0417 721 203
Email: peterm@pharmacysolutions.com.au
Why use a broker?
Selling a pharmacy and maximizing the sale price requires special skills and a complete knowledge of the pharmacy marketplace. Pharmacy Solutions Australia has a dedicated sales force with many years of combined knowledge and experience to ensure the entire sale is handled in the very best way. Our job is to manage all details of the sale process so that you can concentrate on managing your business until it is sold.
Pharmacy Solutions Australia is totally committed to achieving the very best results for you and we ensure your peace of mind through what can be an anxious time for many people. When you engage Pharmacy Solutions Australia to handle the sale of your business, your pharmacy is in the hands of the most dedicated and experienced consultants in the industry – we minimize your workload and maximize the price for the sale of your pharmacy. We pride ourselves in getting maximum results for our clients which well and truly justifies your decision to engage our services.
Why sell with Pharmacy Solutions Australia?
Pharmacy Solutions Australia (PSA) has offices in Sydney, Perth, Brisbane and Melbourne and we have been operating as independent pharmacy brokers since 1996. During this time we have transacted over 650 pharmacy and approval number sales in all states and territories of Australia. That's a lot of experience on your side!
Each of our offices has sales consultants who are actively involved with listing and selling pharmacies, looking for "Greenfield' opportunities, consulting to pharmacists in relation to the growth of their ownership portfolio and handling the settlement of sales.
Pharmacy Solutions Australia is very aware of all key players in the pharmacy market.  This includes buyers from all states looking to expand their current pharmacy portfolios, new buyers with the ability to complete the sale, key contacts within the major lenders, pharmacy valuers, wholesalers, and other relevant industry contacts. Our aim is to sell your pharmacy at the highest possible price in a timely and efficient manner.
Our service, when selling a pharmacy, incorporates processing and amalgamating all information and presenting this information confidentially to fully qualified buyers, handling all aspects of negotiation, providing expertise during contract negotiations and handling Medicare Australia and Pharmacy Authority requirements. We also handle lease negotiations if necessary.  We remain actively involved in the process until completion.
To ensure the sale of your pharmacy is a smooth process we manage the due diligence, finance and settlement periods. Pharmacy Solutions Australia will provide you and the purchaser of your pharmacy with a comprehensive list of all the matters that need to be completed before hand over.  Your dedicated sales consultant will be there every step of the way to assist you with any of these matters to ensure that the settlement of the sale of your pharmacy is stress and problem free.