I have thought back through all our sales over the last few years trying to think of a sale that has benefitted the vendor because he belonged to a particular brand and cannot think of one where it has.
Of course, a purchaser is always thinking how they can add value to the business. Many find that being restricted to a particular brand negates the blue sky as they ask themselves, "how can I add growth to the business when I'm in the same brand as the previous owner who has had 10 years with the brand and understood it completely?"
Consider the length of time you are signing a franchise agreement for and when you are likely to sell the business. Obviously a great deal can happen in a five year period so it may be difficult to foresee a lot of circumstances, but if you have a timeframe on an exit strategy make sure you are wise to the duration of the franchise agreement.
The Market: There are many buyers and there are a good number of transactions occurring at present. The younger generation are seeing value and the older generation are seeing difficulty. It's a real time for change in pharmacy.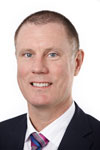 Regards
Peter Marshall
Managing Director, Pharmacy Solutions Australia
0417 721 203
Follow me on LinkedIn